Health & Wellness
Thanks for always being such a positive influence in my life. ~Sarah
"Meeting Diane has been life changing for me. In a crazy world she has taught me to relax and to breathe. It sounds so easy but when you experience the level of relaxation that she takes you to, your may realize that your not getting there on your own. It has brought so much healing into my life; however, the number one benefit is the calming of my nervous system. I can see now that Diane coming into my life has definitely been a divine appointment!
~Sonja Keala Cabebe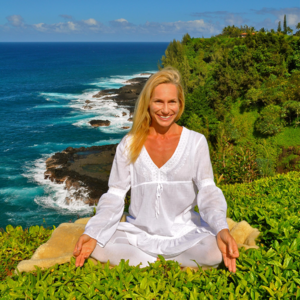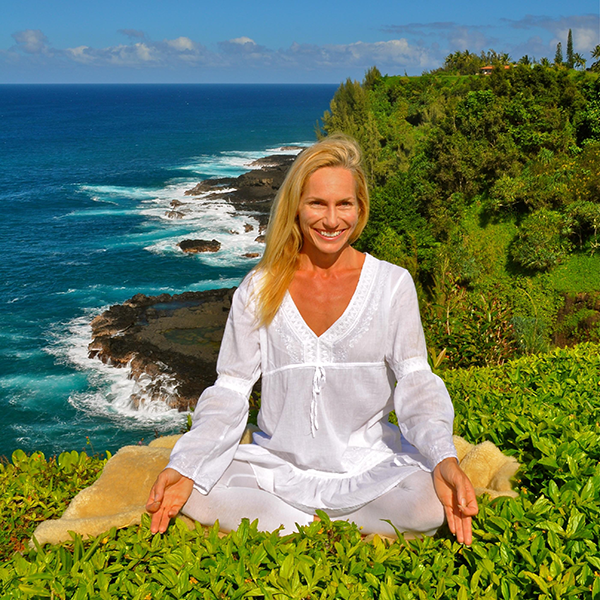 What People Are Saying
"The yoga retreat was awesome because we got to relax. It was great because everyone got along so well. I enjoyed learning how to meditate and cool off when I am stressed. We also got to see pretty scenery like a lake, and we went through a place with lots of plants that were very pretty. When we closed our eyes and did chants together, it was peaceful. I felt more calm and relaxed during the trip than I ever have in almost my whole life! If you or your friends are considering going on this retreat, I definitely suggest it!"
Paige, 9yrs old
"Just wanted you to know how much our week together has meant to me. The kundalini yoga, the meditations, the chance to immerse myself in Kona's ocean—with sea creatures happy enough to share their space with me—all very welcoming.
I loved the notion of talking gently to animals, of singing to them—and seeing them talk back, in their own way.
I loved living together with all of you, feasting at breakfast and dinner time (thank you, Steve!), hearing your stories.
Like most (or all) in our group, I was hoping to reach "enhanced understandings." For me, this just means revisiting beliefs I already held, but inviting them to place themselves center stage.
So, while I probably already knew that I held half of the power/responsibility in each of my relationships, the way you explained it —helped me to remember just how much power I do have. "
F. P , Los Angeles
"I can't thank you enough for the wonderful and altering time we spent together. For all your wisdom you shared with me and your loving and kind presence
The following days and today still I feel deeply connected to the amazing heart energy you held for when (re)introducing me to Hawaii and Lemuria.
Diane all the insights and advises you shared with me are also coming to fruition e.g new job offers, ideas on how to provide coaching and not only healing etc. Hawaii reminded me of what I love to do and focus on what brings me joy in life and the rest will unfold with ease."
Mahalo, big hug and much love
xx Jette
"I cannot imagine where I would be had I not attend Diane's retreats in February and November of this year.
The timing of my first retreat in February served to help me manage my immense sorrow following the recent loss of my father. During the retreat, I felt a strong connection to my father; it was blissful, magical. After experiencing the benefits of meditation, sound healing and sacred ceremonies, I felt renewed and hopeful. Beyond merely coping, I was empowered!
I just knew I had to bring my young daughter to a retreat so that she could gain such important tools early in life. Diane made that a reality only nine months after my first retreat.
My daughter and I attended Diane's November retreat in Scottsdale. The experience was both fun and enriching for my 10 year old and for the two of us together. An immeasurable blessing that came out of this retreat is the enriched closeness my daughter and I have with one another and the common link we have with our daily meditation. I am more patient with her; she is more calm with me.
The retreats were transformative for me! I feel incredibly more grounded as a result of my daily meditation. Following the retreat, I view life again through a lense of positivity, love and joy. I have Diane to thank for helping me return to living my life more fully, with mindful intention and surrounded by love.
I eagerly anticipate sharing all of the many benefits of a retreat with my husband as we prepare as a family to attend Diane's Kona, Hawaii retreat next year.
Thank you, Diane, for sharing your wisdom, love and light with me and others to make our lives and the world so much better!"
Amy. O
"My customized Kauai retreat with Diane was a magical life-changing journey where i was intuitively guided through a week of fun, friendship and new spiritual practices in a compassionate and graceful atmosphere! I am already planning my next retreat with Diane."
Many blessings,
Joti Bachan Kaur
"Thank you for the lovely note.  You each touched my heart and inspired me. I loved my snorkeling  experience , Steve, and your healing touch   Diane, you are a true healer in the deepest sense.  I will see you again."
With love and  gratitude,
Vivian
"Dear Diane,
Before too much time separates us from our wonderful retreat in Scottsdale, I wanted to provide a few words of testimonial.
My experience at the yoga and meditation retreat hosted by Diane Cline was extraordinary and life-changing. The tools that I gained for managing daily life and maximizing  joy continue to amaze me.  I am forever grateful for the inspiration that Diane provided.   I look forward to participating in Diane's future events!
Please let me know if you need anything additional to share with others.
Thank you so much for this amazing experience, Diane!"
Peacefully,
Amy
"I attended Diane's yoga retreat with the hope of enjoying a restful weekend and making some new friends. I came away with a life altering spiritual awakening and friendships with kindred spirits who will be lifelong friends. I am forever grateful for this experience and will be joining her for retreat again."
~Scottsdale, AZ Retreat Attendee
"I have just booked three different events! Thank you for these sacred teachings, & traveling to share the teachings. This is a celebration of life for me, I feel reborn!"
~Jeannie Maholo
"Thank you for renewing our souls.
I took a chance coming to the retreat with my sister and can honestly say it's been the best gift I have ever given myself. I did not do a lot of research prior to booking but know now the universe brought us to you. Both my sister and I were going down a pathway of the unknown and left the retreat with such a sense peace and clarity. I also feel we all became soul sisters at the retreat..with one brother, Steve. I am hoping the women I met at the retreat are lifelong friends. Thanks for being such a wonderful leader."
Love and Light as you say.
~Michelle Lewan
"Aloha Beautiful Diane,
Thank you, one more time, for the most amazing trip of my life time. It had exceeded all my expectations and the only thing I have been able to think about since my return home has been how to get back there to see you soon again. You and your amazing sounds, Steve and kundalini yoga, fed my soul in a way I had never experienced before. I am so excited and eager to continue to practice my meditation and to get more comfortable with kundalini yoga, which is cultivating the discovery of my spiritual path.  Thank you thank you thank you for your generosity and service from the bottom of my heart. Sat Nam:)"
Much love,
~Emina
"Aloha Diane,
Big Island retreat was an incredible, unforgettable experience. The excursions were fun, well organized, and accessible for everyone. Diane and Steve were so warm and welcoming and they made sure everyone's experience was magical. The yoga, meditation and sound healing sessions were medicine for my soul, and I couldn't have asked for a more supportive environment between Steve and Diane and my retreat sisters. The bonds made on retreat are unbreakable and I can't wait to experience another adventure with Diane – once you go on one retreat, you will definitely be coming back for more. It is without and doubt a priceless, life-changing experience that anyone could benefit from. I am so grateful I went :)"
~Sat nam : )
"I took this trip to Hawaii without knowing what to expect.  What wonderful, generous hosts Diane and Steve turned out to be.  They put us up in an excellent place and took care of everything, making sure each day was special.  I can honestly say that every moment of this retreat was wonderful.  I was healed, inspired and blessed.  Kundalini yoga is transformational and Diane's teaching is amazing. The crystal singing bowls were mind blowing.  My heart is overflowing with gratitude; this retreat could not have been more perfect for me right now.  Snorkeling, eating good food, meditating and practicing among beautiful new friends in sacred surroundings–just perfect. Mahalo!"
Sat Nam,
~Karen
Aloha Diane!
I was thinking of you and planning to email. I think this is one of the best things I have done for myself-EVER! But especially given the timing; death of Mom, new job and also became a grandma for first time while here on the islands! My 19 year old son and his girlfriend surprised us (and themselves) earlier this year.
I could have gone to sleep for the rest of the night after our session. And, I too saw purple!!!-lots of it. I don't feel like I connected with my spiritual self completely but felt that I was in solid aim…if that makes sense. And, while sitting outside a bit later, it felt as if all the cells of my body were sort of "humming"-best I can describe, and in a good way.
Love and Peace to you and I'm sure we were supposed to meet. I will continue my practice, and hope to seek out Kundalini (sp?) Yoga when I get back to Sacramento.
~Robin
"I'm speechless… I am in such a good place right now. Sending you my eternal gratitude for your gift of the Gong. I'm off to bask in the beauty of the island with a grounded yet elevated perspective." Mahalo and Love…
~Shana
"I have been taking Diane's yoga class for a year now, and have had great results in terms of bringing strength and healing to my lower back. Her routines are great for core, legs and shoulders. The meditations have been wonderful for general peace of mind and relaxation. Now that Im aware of her yoga, I could not imagine my life without it."
~Privacy Requested
"Hello my dear Diane,
I love my practice! I have been doing your full yoga lesson 3 Xs a week and the 20 minute CD on occasion as well. I try to start and end my day with a 5 minute meditation practice. I am feeling much better-and one night I forgot to wear my appliance and woke up and realized that I did not grind my teeth! I am evangelizing this yoga to all I love. I want to share your DVDs with others that will benefit too.
I look forward to staying connected my dear. You bring a special spirit about you and it is one I needed in my life at this time. Please tell Sabrina hello from me! Hugs…"
~Kathy
"Diane holds a very powerful healing Kundalini Yoga class that brings deep healing sensations into every cell of your body. She is super fun, positive, clear and very energizing to be around. I highly recommend taking her yoga class anytime.
~Kauai, HI
"Meeting Diane has been life changing for me. In a crazy world she has taught me to relax and to breathe. It sounds so easy but when you experience the level of relaxation that she takes you to, your may realize that your not getting there on your own. It has brought so much healing into my life; however, the number one benefit is the calming of my nervous system. I can see now that Diane coming into my life has defiantly been a divine appointment!
~Sonja Keala Cabebe
"We are given few moments in our lives to transform ourselves into something truly special. Diane and her yoga class is one of those rare opportunities. With her effervescent personality and deep knowledge of the art of yoga your physical and metaphysical being will be elevated to levels you may only imagine. Prepare yourself for a great time, heart, body and spirit."
~Roland (Fez) Lanzi
"Practicing yoga with Diane has transformed my body, mind and spirit. I can actually feel my SELF changing.
This yoga class is a very special experience. =)"
~Privacy Requested
"Your yoga classes have lifted me out of a long depression after the death of my husband. I am forever grateful."
~Dr. Marilyn, Sarasota, FL
"We are so blessed to have met you & experienced your spirituality & Light. Our whole family enjoyed the yoga classes and Gong."
~Kevin, San Francisco, CA
"Still meditating – and it is really helping. Sticking with the calm heart every day and doing others as the need or mood strikes (prosperity is frequent, and now that we've succumbed to the winter cold and crud meditation for health is on the menu – thanks for the cd which really helps!!).
Hope you are well and classes are full. Looking forward to the dvd!"
~Liz
"Diane is truly amazing! She has been an angel that I believe was brought to me when I was going thru some tough time in my personal life. She taught me how to relax thru breathing and mediating thru yoga. I love her CD and I love her classes. I am so blessed to her has a friend and teacher. Mahalo!
~Anne Archer, Mill Valley
"I have been doing yoga for the past 8 years. My yoga experience with Diane can be summarized like this. Diane is the most inspiring teacher I have ever had. Every cell in my body was awakened and filled with the most incredible energy. The breath work we do in her yoga class is absolutely awesome. Your body, mind and spirit will be uplifted like never before."
~Susy Westmoreland
"What a profound experience I had during my private meditation session followed by the morning Kundalini yoga practice with Diane. She has shared such an insightful information during our meditations practice, I truly believe that through years of her extensive and dedicated practices, she is gifted in receiving insightful information from the higher consciousness, about the person she works with, and sharing it with us. I literally became the embodiment of Love, Gratitude, Peace, and Joy after Diane played the crystal bowls and the gong which took me to a whole another dimension. Mahalo.
~Tomoko S. Mays, United States
"Dear Diane:
My wife, Hannchen, and I stayed at Alii Kai II for two weeks in November and enjoyed getting to know you, learning to paddle board, a trip to the Blue Room, 3 or 4 gong sessions and regular yoga sessions. Before we left you gave us a two page photo copy of the Kundalini exercises. Since our return in November I have practiced the 14 exercises daily and am chanting 2-3 three times daily (incorporating 3 of the chants you recommended) for 5 to 11 minutes each.
We are both enjoying the daily practice very much. It takes a bit to fit it all into a busy work and family schedule but it has felt very worthwhile. After decades of meditating and hatha yoga I am feeling very good about this new practice and expect to keep it up indefinitely.
Thank you for your instruction, your periodic emails and care. Blessings…"
~Gair
"Having your new DVD is like having you in my living room! it is WONDERFUL that I can take you home!"
~Patti, Tucson, AZ
"Aloha Diane,
You help by just being there for me but my Mom would appreciate this. She did mention something and we talked about trading off with the kids so we can spend time with you. She thoroughly enjoyed the gong and is coming again this Tuesday. It helped her arthritis and relax her mind. She really had no idea what she was going to I just told her it would be good for her and she would love it.
Thanks for always being such a positive influence in my life."
~Sarah
"I can't thank you enough for sharing your healing energy, your wisdom, your positive nature, not to mention the gifts, physical and in the form of encouragement to keep moving and growing. Thank you also for listening to my story.
The coordination of all the details to pull off a retreat must be enormous and you handled everything with such grace and beauty! I look forward to spending more time with you in HI.
Peace, love and light…
~Alice, Arizona
"Can I take you home with me ? I need this positive energy every day!"
~Annie, Hanalei, HI
"ALOHA + Sat Nam,
Thank you so much for your inspirational message! I have been missing my Kauai family! I am making healthy changes, and thanks to you I have the tools to make those changes happen.
It is wonderful to hear from you, what a beautiful picture!"I highly recommend taking her yoga class anytime."
~Gayle
"YOU are my angel in Kauai, after the death of my daughter the meditations, wisdom and healing you shared helped me immensely."
~Cindy,   Sacramento, CA
Submit Your Testimonial Here!