Sound Healing Study Program
With Diane Cline, RYT (all year long on Kauai & at All retreats offered)
Vibration is everything because everything IS vibration.
Learn how to play the Crystal bowls
Invoke divine wellness for your clients/family
Release toxins, stress, trauma & habits
Learn what the bowls facilitate
Balance your chakras
Shift your perceptions & lifestyle
The quartz crystals in our crystal singing bowls : store, amplify, focus, transfer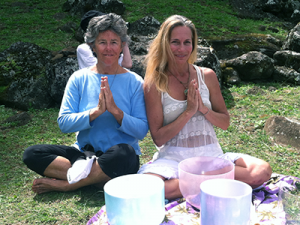 and transmute energy. I personally, Diane Cline have given Crystal bowl "alchemy" to over 2,000 people and can share 2,000 stories of people receiving the immediate shift that their body/psyche/emotions needed at that session. If they had anxiety, they would say they could "breathe again", if they had neck pain, they would say their "neck pain was gone ", if they had a closed heart chakra from a divorce, they would say they felt their " heart chakra open up", a woman who could not bend her knee to sit easy cross legged at the beginning, by the end of her session could bend her knee!
I have 1,996 more personal accounts, like above, showing the transformation that comes from having a Crystal Singing bowl session and/or your own bowls.
When you begin to play your own bowl, you have entered music therapy. The opportunity to reduce stress , pain, and promote self awareness, creativity, shift perceptions and empower yourself!
As we mentioned, everything is vibrating. All the cells, tissues, organ, and muscles in your body are vibrating. By using the Crystalline sound vibration, the energy goes where it is needed and YOU come back into balance in all levels . In short, when the vibration of a certain body part is in harmony with the rest of your body, your body will be healthy , as will your mind and emotions.
One of the aspects I enjoy the most is that using your bowls can shift your perceptions so you can experience a deep personal level of knowing that you have NEW choices. These new choices alter your life's journey in a positive way. As one client said " Anything in your life that is contracted : your love life, financial, health , will be expanded in just the perfect way ".
We carry the highest quality Alchemy singing bowls, clear bowls, practitioner bowls and rare metal bowls , all at a reasonable price. Whether you choose simply a private Session by Diane or attend the Sound Healing Study Program , you will experience personal transformation with ease and grace.
The Sound Healing Study Program is perfect whether you simply want to learn to use the bowls for yourself or to offer Sound Healing events in your area.
Weekly Vibrational Healing Sessions
Join Guru Purkh every Monday at the Princeville Community Center and experience deep vibrational healing with the gong!
Click here to learn more or pre-register for the Weekly Vibrational Healing Session.
"The Heart of Sound" Workshop
Bring your pillow and join three talented performers / healers for an evening of sacred sound healing using the Gong, Crystal Bowls, Angel Harp and Celtic Harp under the full moon.
Click here to learn more or pre-register for The Heart of Sound Workshop on Kauai.