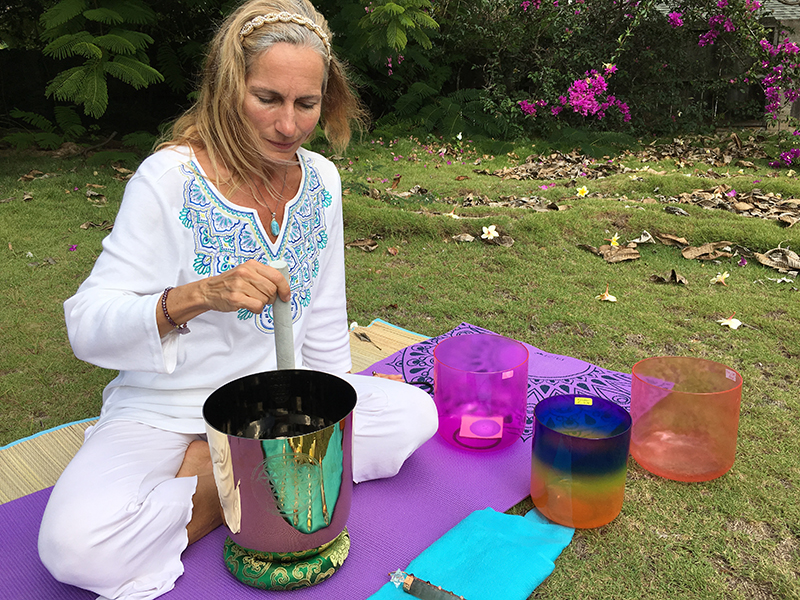 Crystal Singing Bowls
The best Holiday gift ever!
---
---
Videos below...
Please Listen with Headphones for an immersive experience!
1. "Mana bowl"
Translation of mana = spiritual power This Obsidian bowl removes any negativity , enhances protection & has been known as the "bowl of the High Priestess" for Hawaiians. Obsidian is a bridge for connecting with infinity & the spirit worlds. In an 8 inch , G note for activating the Throat chakra , speaking your truth and opening the higher level hormonal centers. Only $ 999.00


2."He'i le o' lani Bowl"
Translation: held in the arms of heaven. This Morganite bowl is about divine love, attracting love, keeping love, self love love,, love , love . It empowers you to choose what you love & live from the heart. In a 10 inch , F# note, which activate the heart center. Only $1,199.00


3. "Nani bowl", Translation: enjoyable; to enjoy
This rare metal Titanium bowl activates joy, humor & relaxation . Also wonderful for increased vitality & endurance. In a 8 inch , D# , 3rd octave with Flower of Life emblem! This is truly one of a kind bowl , you will not see another like it. The D# for enhancing creativity, passion and stamina are healthy & vibrant. $1,499.00


4. Rainbow Unicorn bowl
Capturing the rainbows of magical Kauai with the sacredness & playfulness of the unicorn realm, this bowl activates Unity consciousness. The F note, opens & balances the heart chakra, allowing new level of love vibrations to flow in your life , work and relationships. 6 inch size Only $540.00


5. Violet Flame Bowl
This bowl captures the violet flame of transmutation, transmuting any procrastination, negativity, old patterns, old habits, and anything no longer serving you. 7 inch size, A# Activating the third eye and intuition. Only $590.00


6. Chakra Healing Wands
Coming in a few varieties, clear quartz crystal, opalite, and rose quartz. Sometimes with the Merkahba Activation at the top of the wand. Use to balance your chakras, clearing & cleansing your home, office, or car. These wands have been activated with the sacred sounds ceremony we do on Kauai. Prices $65 - $75 (For a Limited Time Only)
Others we offer : Opal gemstone, Sapphire gemstone, Practitioner in Blue, Red /root bowl, Purple/Crown bowl, rare GOLD.......

We have 8 other types of bowl in stock , feel free to call , email or text to check current availability Or let us
know what type of bowl you are looking for .

We started offering crystal bowls to others to uplift Humanity.

Our bowls have been activated with the unique vibrational frequencies of Mother Kauai before they are delivered to your loving home.
---
---

Now Is The Time, to get the crystal bowl of your dreams!!
Thank you for being a part of our community, and sharing your special light.