Meditations by Guru Purkh Kaur (Diane Cline, RYT)
Enjoy meditations and sound healing with the gong as part of your Kauai Kundalini Yoga experience or practice…
Aside from offering weekly Kundalini Yoga Classes on Kauai, Diane Cline, RYT (Guru Purkh Kaur) offers a series of meditation and sound healing sessions, events and retreats on the garden island of Kauai.
Sacred Time Meditation
Being free of stress is the key to happiness. I know for me, my daily meditation practice gives me the space to choose happiness instead of stress.  I think of meditation as my "airbag" (just like your car has one) that protects me from what is coming into my field.
~ Diane Cline, RYT (Guru Purkh Kaur)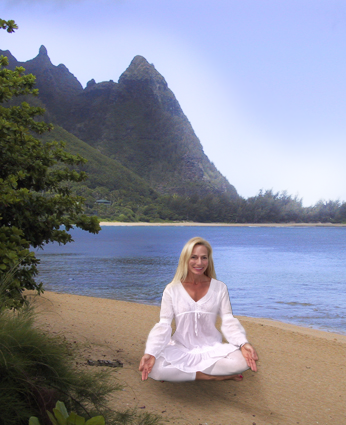 Sacred Sound with the Gong Meditation
The universe is powered by sound.  The gong is the basic creative sound.  Out of the gong comes all music, all sounds, and all words.  The sound of the gong is the nucleus of the Word.  The mind was created out of this sound:  it is like the father and mother together.  The gong is the first and last instrument for the human mind. It is the one thing that supersedes the mind…
 ~ from About the Gong