Heart of Sound: Crystal Singing Bowls
Join Diane Cline, RYT, for a special afternoon of alchemy Crystal Singing Bowls.
An Evening of Sacred Sound
Enjoy this 3 part event to learn about a technology to assist you in making life changes, and:
Experience playing with the bowls yourself.
Enjoy laying on your back as a bowl is placed on your body along with over 9+ crystal bowls playing in a symphony, releasing any patterns or stress from your life (and your body) weighing you down.  Literally feel lighter, brighter and a new level of peace after the experience.
Order a custom bowl and continue your experience at home!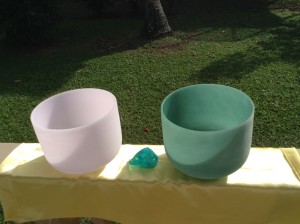 Studies show that sound healing can stimulate endorphins, relieve pain, lower blood pressure, increase circulation, strengthen the immune system and reduce stress hormones.
"I felt like I was levitating the whole time!"
~Joe, San Diego (recent attendee)
Weekly Event
WHEN:  Every Tuesday – 4:00-5:00pm *( 3:45pm check-in )*
WHERE:  Pono Kai Resort in Kapaa (Kauai, HI).